WASHINGTON, D.C. — (RealEstateRama) — The office of Congresswoman Eleanor Holmes Norton (D-DC) said that President Trump today signed into law the federal lands package that contains Norton's bill that allows the District of Columbia to partner with the National Park Service (NPS) to rehabilitate, operate, and maintain NPS properties in D.C. The NPS owns most of D.C.'s neighborhood parks. Norton's bill makes clear that D.C. can enter into cooperative management agreements (CMAs) with the NPS. Last Congress, Norton and Senator Lisa Murkowski (R-AK) introduced stand-alone versions of the bill. One of the first parks to be rehabilitated will be Franklin Park.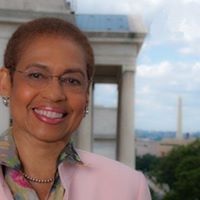 "The National Park Service owns nearly all of D.C.'s neighborhood parks, which makes this bill critical to the District," Norton said. "Congress never adequately funds the nation's many federal parks. Considering that our neighborhood parks, though most are NPS controlled, are central to neighborhood life and enjoyment, this bill will allow the city to tap local and private funds to help renew our precious parks."
Last Congress, the House passed Norton's bill, and the Senate Energy and Natural Resources Committee passed it, too, but it was tied up in negotiations over unrelated land bills and did not go to the Senate floor.
###